Christmas Shoebox Appeal 2018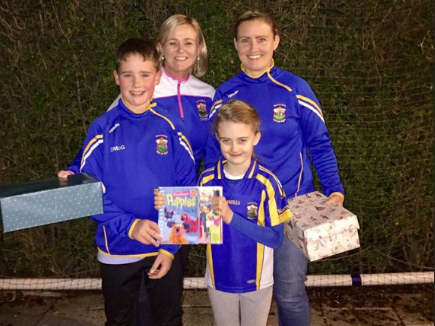 Naomh Bríd are delighted to partner up again this year with Antrim GAA by teaming up with St Vincent de Paul (SVP) to spread seasonal cheer to some of the most vulnerable in society, through the Shoebox Appeal! This was such a great success last year and as a Club we want to build on this sense of community and charity.
SO WHAT DO YOU NEED TO DO?
THIS IS REALLY EASY…
GET A SHOEBOX, WRAP IT. MAKE SURE YOU MAKE IT CLEARLY ON THE FRONT IF THE ITEMS ARE SUITABLE FOR A MAN / WOMAN OR BOY OR GIRL.
Suitable items for the shoeboxes: Shower Gel, Shampoo, Toothpaste, Toothbrushes, Mouthwash, Lip Balm, Sanitary Products, Flannels, Combs, Hairbrushes, Hand Cream, Deodorant Spray/Roll On, Chocolate, Hot Chocolate Sachets, Notepad and Pen/Pencils, Torches, Batteries, Mobile Phone Chargers, Travel First Aid Kits, Socks, Hats, Gloves, Scarves, Small Towels, Earplugs, and Eyemasks.
This list is not exhaustive, if there is anything else you can think off that would make a vulnerable person's life just a little bit easier at Christmas, please add to it.
Collection points: Stranmillis College at Fun Sunday (12-1) November 10th and 17th.
HQ Monday eve (7-8:30) November 12th and 19th.
Any queries, please contact emma.gorman3@gmail.com