A History Of St Brigid's GAC: Musgrave Park Opens For Business!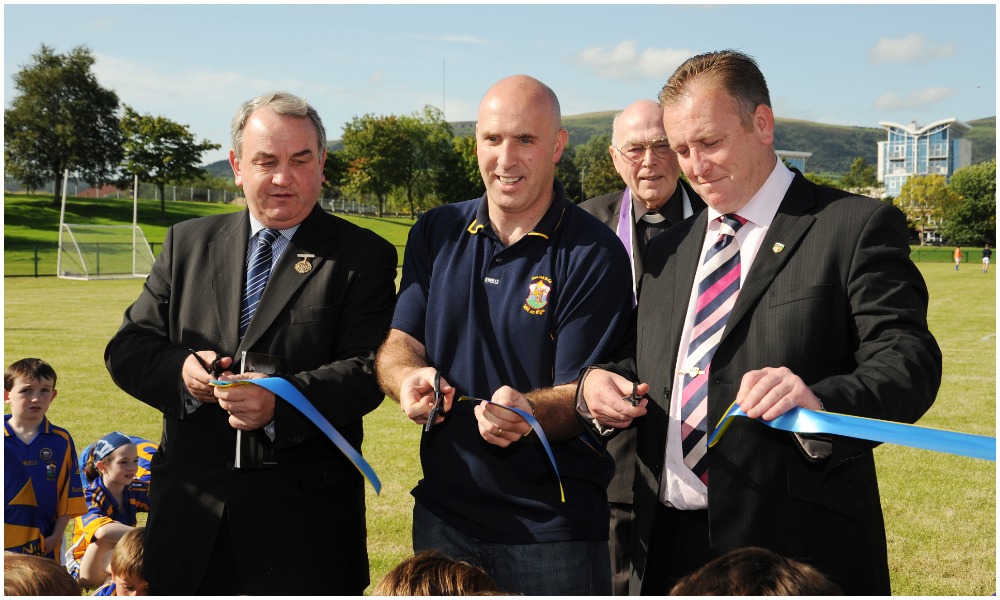 (Above: GAA President Nickey Brennan, St Brigid's Chairman Oliver Lennon and Antrim GAA Chairman John McSparran cut the tape on Musgrave Park. Monsignor Ambrose Macauley (background) would then bless the pitches. Credit: South Belfast News)
This photo is just one of many memorable images to feature in the 'History of St Brigid's GAC' book that is being launched on Sunday 4th November with a coffee morning in the St Brigid's Parish Hall after all Masses that day. The book will be on sale for £10. For more info, or if you wish to put your name down for a copy (or several!) of the book, please email stbrigidsbelfastpro@gmail.com or message us on Facebook.
In 2003, an advertisement from Belfast City Council appeared in the Belfast Telegraph, inviting local clubs and organisations to apply for the facilities management of a number of sites, including Musgrave Park. Five years, almost £500,000 and a huge amount of behind-the-scenes work later, St Brigid's GAC celebrated its tenth anniversary by cutting the tape on its new pitches at Musgrave Park. After an 800-strong gala dinner in a marquee beside the facility on the Friday evening, the blessing of the pitches (by Monsignor Ambrose Macauley) and cutting of the tape (see photograph above) took place on Saturday 20th September.
Apart from the opening of the facility, the main event of the day was a star-studded challenge game, refereed by Pat McEnaney. James Loughrey captained the 'All Star' team – featuring names such as Peter Canavan, Anthony Tohill, James McCartan and Ross Carr – who took on a (mostly) 'St Brigid's select' led by one of our own club heroes, former Derry goalkeeper John Mackle.