From Glory To Tragedy: Report From King Henry's Message At Saffron Business Forum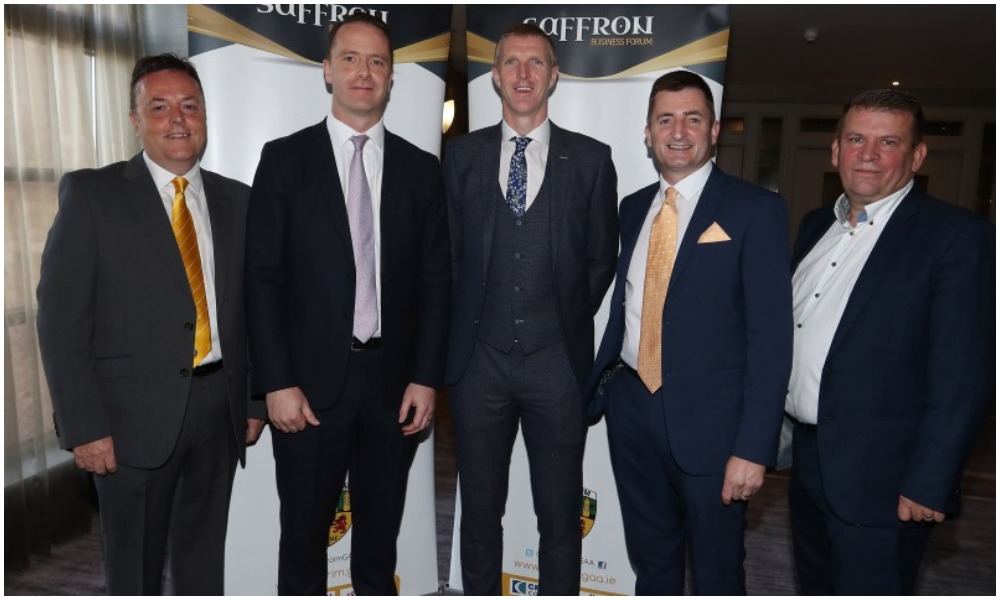 (Photo: Saffron Gael)
Recently the Saffron Business Forum hosted none other than Kilkenny great Henry Shefflin at its lunch at the Crowne Plaza Hotel in Belfast. Senior star-turned-reporter Cathal Conway was there to listen to Shefflin's fascinating account of the ups and downs of his life…
Event: Saffron Business Forum
Location: Crowne Plaza, Belfast
Date: 14/09/18
Guest Speaker: Henry Shefflin
Henry Shefflin has won a record ten All-Ireland medals on the field of play as well as thirteen Leinster medals and six National Hurling League medals. During his playing days he won a record-breaking eleven All-Star awards, as well as being the only player ever to be named Hurler of the Year on three occasions.
Henry believed the key for achieving success was the culture in the team. He believed the recipe included mastering the basic skills over and over again. A Princeton study found that in sports, practise accounts for a 26% difference in performance.
Henry has great leadership qualities as he is always pushing himself to be the best. He believed in himself and his qualities. To succeed you must believe in yourself because there will be times when things aren't going well and you are finding it difficult or you face challenges but if you have belief in your idea and processes it will help you overcome them.
His manager, Brian Cody, who is one of the most successful of all time, learned from his mistakes. At the start of his career he was very close to his players and would socialise with them on nights out, but as he gained experience he realised he had to keep a distance from them and drop players who had been overindulging.
Henry talked about his obsession to succeed. He would practice for hours on end, and this turned into selfishness at times. Everything was geared towards success, when he was injured he would rest up on the sofa as much as possible and when they lost he would be grumpy and hard to live with.
Sean Cavanagh has paid me to say he released a book called 'The Obsession' which is available in various stores.
Shefflin stated that the thought of failure helped drive him on and motivate him. He said you always remember the years you didn't win and the emotions that it evoked.
It wasn't all plain sailing for Shefflin. He had some serious injuries including ACL/MCL. However, he admits he was 'lucky' with the timing of the injuries. They often happened at the tail end of the season allowing him time to recover in time for peak season the following year.
Henry explained that the tradition in Kilkenny helped you succeed. He grew up watching success and had great role models. You expected to win and if you didn't win, you were wondering why not. Tradition and experience all aid success. They say "success breeds success" and that is backed up by a study completed by Stony Brook University.
Brian Cody never talked about winning; he said he would build a spirit within the team that couldn't be broken. It was this spirit which gave them a never-say-die attitude.
His manager is portrayed as having an autocratic style and being very serious, in the mould of Sir Alex-Ferguson. Henry said this couldn't be further from the truth as his wife describes him as a "cuddly bear"! He is approachable, innovative and always looking to get the best out of his players.
Shefflin admitted that he struggled to perform during his first semi-final appearance at Croke Park. He was young and the pressure of the day led to him missing free shots on goal. He would otherwise have scored. However, the leader of the team DJ Carey helped him. DJ had contacts inside Croke Park and before the next game he helped him get a rare chance to practice frees in the stadium beforehand. This can be related to work due to the importance of helping each other out and of assisting someone when they are struggling in work for whatever reason. Peer mentoring and coaching in the workplace – from the board room to the shop floor – can be powerful tools in business.
He talked about personal tragedy. Once he was cutting the lawn and his kids were playing in the garden, and one of his five sons ran in front of him. His son looked back and tripped. The lawnmower went over his son's foot and he lost four toes. He talked about how hard a time mentally he had and that the support from his family and the GAA community helped him get through it. He said the pressure of playing at a high level had helped him learn about the importance of talking to friends. Fortunately in the end his son recovered to the extent that he is now able to run and play with his friends.
Shefflin works for Bank of Ireland, he has a degree in Financial Services and is a manager in the Lease and Finance department. He works with 13 motor franchises and he enjoys his work – although he often wonders if he would have set up his own business if he wasn't as dedicated to his sport.
Shefflin admitted that it is a lottery where you are born, if he was born e.g. if he was born in County Down he would not have the same success or spotlight that he has gained from his birthplace. This is similar in various aspects of life as your postcode or country can affect your life prospects.
He said Kilkenny did not make him and that he is a product of his local club.
He described himself as a late developer and when he was younger he lacked the confidence to succeed. His advice to young people is to believe in yourself and have confidence. He stated it is important to have passion in what you do and that young people often need a lot of encouragement.
Shefflin described an incident on the training ground when Padraig Walsh and Eoin Larkin got in a training ground fight. Tommy Walsh, brother of Padraig, ran onto the pitch and kicked Eoin on the head. Eoin walked off shouting, "I have had enough of this sh**te". Cody persuaded Eoin to join back with the group. As they gathered in a circle, Tommy was looking sheepishly in the corner. Cody announced to the group, "Are you not going to apologise?" Walsh replied: "Sorry Eoin, I didn't mean to kick you in the head."
Finally, Shefflin believed the downs he experienced helped make the successful times even better and that they helped put his life in perspective, preventing him from getting distracted with the events, promotion and attention that comes with being a high profile sports personality.
Thanks very much to Cathal for the detailed account! Lots to learn in there. The Saffron Gael, as ever, were on the ball with photos from the event. Click here to see more.