A Minute With….Smithy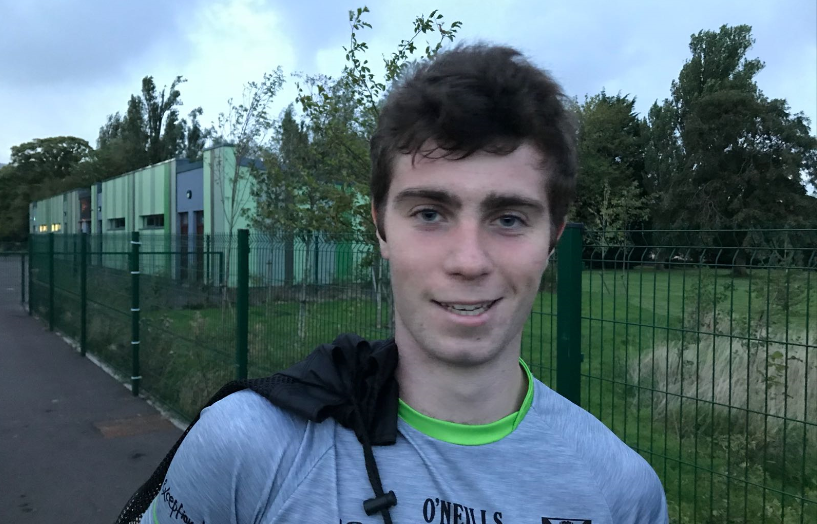 1. Name? James Smith
2. Age? 20
3. Playing position/role in club? Midfield/CF
4. Favourite film? Shawshank Redemption
5. Favourite song? Changes all the time, couldn't nail it down to one
6. Favourite food/meal? Has to be a double park burrito in Boojum
7. Favourite holiday destination? Best holiday I've been on so far is the East Coast of America but I've always wanted to head to New Zealand
8. Favourite pitch to play on?  Musgrave – nothing quite beats it on its day (although build Casement and that might change)
9. Favourite club memory? Lots of good memories underage with winning championships and getting to the Ulster final but it has to be the intermediate championship last year. Extra special getting revenge on Dunloy!
10. Worst club memory? Minor county final against Dunloy. Goal in the first five seconds and never really recovered. Also up there, the Ulster U16 final
11. Unsung club hero?  Eunan deserves a tonne of credit
12. Best player played with? RJ or Enda Clarke on their day. Some big performances by them
13. Best match you were involved in? Intermediate quarter against St Enda's. Went in as huge underdogs (ask Ben Sinnott how much, he made enough money from us) and never seen us play better as a team than in the first half. Showed serious guts to dig in and hold on for the lead when they started to come back in the second half.
14. Favourite quote? "Never be afraid to express yourself on the pitch"
15. Best advice ever received? Get the most out of every session, you're there anyway
16. What other club do you like to see do well other than St Brigid's? St Jude's, that's about it
17. Favourite player growing up? Gooch Cooper or Diarmuid Connolly, different styles but both players who can kick with both feet and have great intelligence on the pitch
18. Best trainer on the team? Mikey Cummings/Cathal Conway. The two of them never stop working
19. Worst trainer on the team? CT ever since he got himself a woman
20. Up and coming player to watch? James Blaney of course
21. Favourite thing about the GAA? The things you accomplish as a team and the pints afterwards
22. Where would you like to see St Brigid's in ten years time? Couple of senior championships in the bag, established Division One side. Competing across all teams, from Senior ladies and men down to U10.