A Minute With…Cathal Conway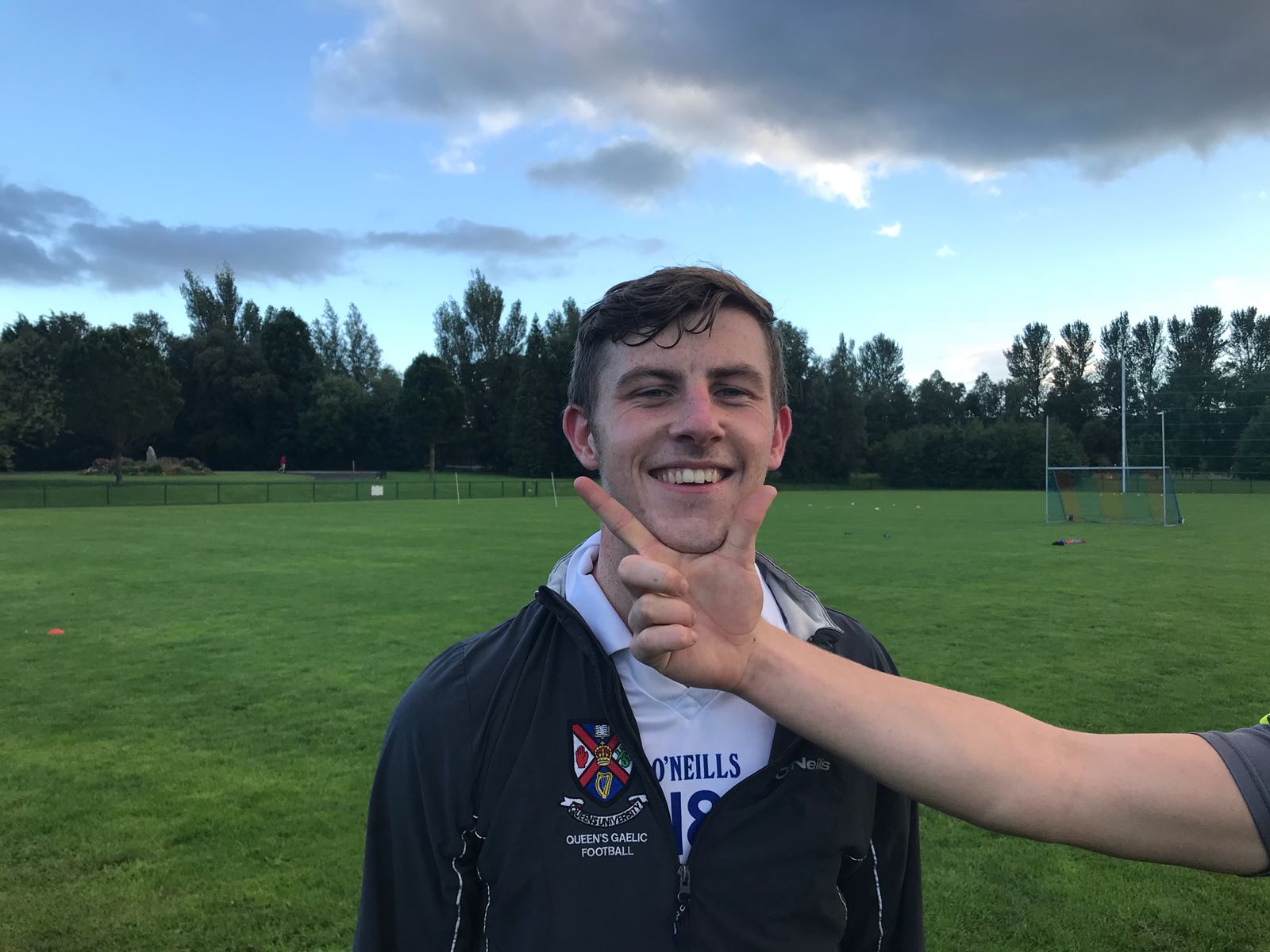 Ahead of the Senior men's crunch table-toppers' clash with Aldergrove on Saturday (THROWIN 7PM, ALL SUPPORT VERY WELCOME!!), our bustling midfielder Cathal Conway takes on 'A Minute With'…
1. Name? Cathal Conway
2. Age? 23
3. Playing position/role in club? Midfield / P7 Coach
4. Favourite film? The Wind that Shakes the Barley
5. Favourite song? These Streets – Paolo Nutini
6. Favourite food/meal? Lasagne
7. Favourite holiday destination? Lake Bled- Slovenia; Rasharkin- Co,Antrim – always give me a warm welcome.
8. Favourite pitch to play on? Musgrave Park in the sun
9. Favourite club memory? A) Trip on the bus to the Ulster hurling Feile u14 – few club suspensions due to bad behaviour. B) Gerry Mulholland driving us about in his red van. Halloween was always a favourite time with the Gerry firework display. C) Ben Leonard missing a match to go on a date! Where? A play at the Opera House. Ronan McGrady missing training! Where? Speed Boat lessons. Rare even for the 9ers.
10. Worst club memory? A- Losing by a last minute goal to Rossa in Championship after their best player got a yellow and black card and stayed on the pitch. B- Losing an Ulster hurling final after extra time by a point after being 18 points up at HT. (No wind)
11. Unsung club hero? Anthony Carleton/ Frank McGurk/ Gerry Mullholland to name a few
12. Best player played with? Locky/ Sweeney / Enda Clarke / Lee Breenan / Ronan McGrady on his day
13. Best match you were involved in? U14 Feile final v Rossa. Getting hammered at half time came back to lead but lost by 4
14. Favourite quote? He's not the second cousin of a footballer- E. Conway (Description of a bad footballer);
If you can't support us when we lose or draw, don't support us when we win – Bill Shankley
15. Best advice ever received? Practice passing with both feet; watch the best players
16. What other club do you like to see do well other than St Brigid's? Liverpool FC. I like Kilcoo- hard men and Dr Crokes- Kick passing team . Also follow St. Judes and Mallow keeping an eye on the traitors.
17. Favourite player growing up? No one is even close to Peter the great. Simply unstoppable. Great footballer and hard man. Played an All-Ireland final with a broken ankle and been kicked by every hallion in Tyrone. Which btw is a long list.
18. Best trainer on the team? James Smith sometimes but he is allergic to the 2 forward one back. Shoutout to Kevin Mcgovern has some motor on him hai and Luke McKeever has the hunger and can kick a ball.
19. Worst trainer on the team? Changes quite often. It was Ronan with his self diagnosed 'knee injury". I'd say the keepers equally win this one.
20. Up and coming player to watch? Dara Quinn, James Blaney, Cathal McNicholl, Samir O'Hare
21. Favourite thing about the GAA? Friends, pride, fitness, confidence, experiences, pints… the list goes on
22. Where would you like to see St Brigid's in ten years time? Feilie finalists every year, Ulster underage title and County senior champions. Hurling developed.