St Brigid's Ladies Star As Heroic Antrim Minors Just Fall Short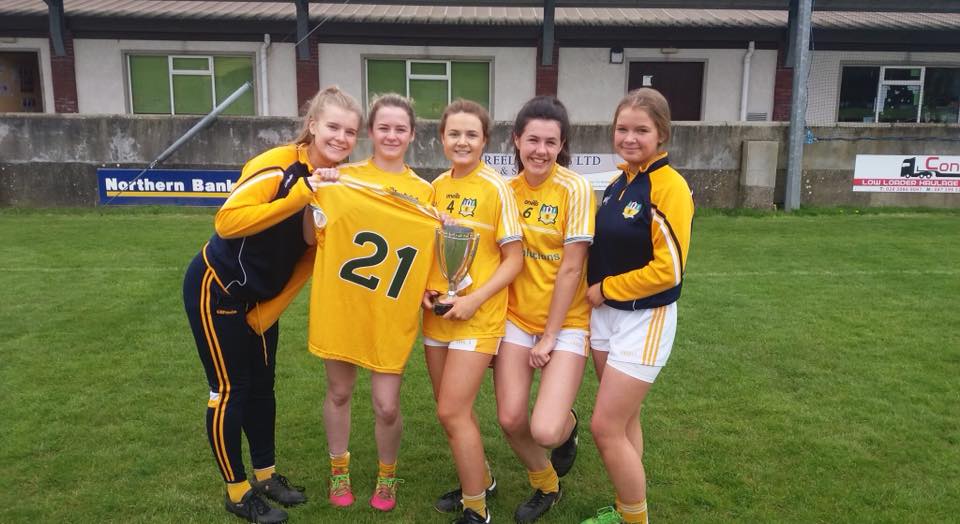 By Philip Doyle
Sadly , Antrim Minor Ladies lost the tightest of All Ireland 'B' semis to a strong Roscommon today under blazing sunshine in Monaghan.
The first 10 minutes saw the girls punished with some lethal finishing from last year's U16 All Ireland Champions and facing a 2-2 v 0-0 deficit and a mountain to climb!
Gradually the Saffs found their range and pointed consistently but continued pressure saw us hit the break, behind by 7.
Undaunted, and with renewed fire in their belly, Antrim came bouncing out of the dressing room and proceeded to dominate the entire half with superb finishing, rounded off with a goal and numerous points. Roscommon were rattled and it was 16 minutes into the second period before they were able to muster a single score.
With 7 minutes to go, Antrim had turned a 7 point half time loss into a 2 point lead and pressed hard for the winner that would see them through, but exceptional goalkeeping, the crossbar (twice!) and several wides conspired against us. A soft yellow card saw us depleted to 14 but the girls never faltered and regrouped to do battle again but superior opposition numbers and exhausted legs sold us short with Roscommon running out 2 point winners from a late point and goal. Final score Antrim 1-16 v 5-6 Roscommon!
To all the St Brigid's girls who have helped lift the Ulster title and taken an exceptional Antrim to within touching distance of an All Ireland Final…… congratulations! Captain Maeve Blaney, Caitriona McBurney, Sorcha McGarvey, Rebecca Doyle, Emma Ferran and Eimear Matthews, you have excelled for yourselves and for St Brigid's! NBA!