St Brigid's "Singing In The Rain" As They Collect First Ever County Feile Title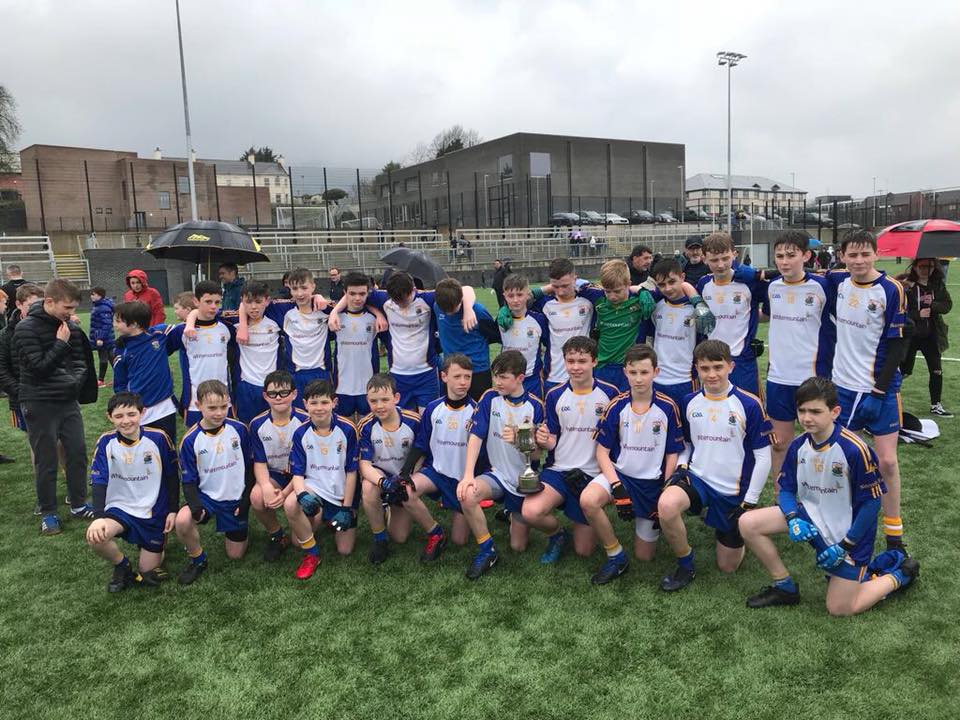 Antrim Feile 'A' football final, Colaiste Feirste
St Brigid's 3-6 Cargin 1-4
Saint Brigid's of South Belfast were "singing in the rain"after playing out an exhilarating Feile "A" football final at a rain sodden Colaiste Feirste.
A large crowd was in attendance to witness a brilliant spectacle which epitomised everything that is good about Gaelic football.
Our match reporter understands that Saint Brigid's started their day with a warm-up on their home pitch at Musgrave Park followed by a detailed team meeting in the clubs new changing rooms, where each squad member was made aware of what was expected of each Saint Brigid's player if the team were going to create club history.
Tension was in the air, but determination and focus was etched on every squad member's face.
During the warm at Musgrave it became clear that starting centre half forward Eoghan O Mainnin was not going to be able to play and concerns increased when it became obvious that young Thomas Lloyd was also carrying a serious injury.
If the coaches were concerned about these set backs then these concerns were concealed from the players as the panel was already acutely aware that Saint Brigid's were already without talented forward Conor Logue who was already ruled out having sustained a broken arm in an earlier round of the same competition.
This reporter watched both Cargin and Saint Brigid's arrived around 1pm.
Both teams adopted different strategies with Cargin opting to go to the changing rooms while Saint Brigid's headed straight for the playing surface.
Tension and focused faces peered out from behind club colours, the crowd swelled and the rain poured.
The game kicked off on the stroke of 1.30pm to a large roar and Cargin were immediately into their stride. The talented Conhuir Johnson opened the scoring with a magnificent point from the right side of the field.
During the next move young Thomas Lloyd broke down and the importance and strength of the St Brigid's panel was now really being put to the test.
All through this competition this Saint Brigid's outfit have maintained a mental toughness. If anyone was in doubt that Saint Brigid's lacked the will to win then joint captain Brian Mc Gurk laid down a marker when he met Cargin's Shivers in a bone crunching tackle that disrupted a promising Cargin attack. This leadership spurred Saint Brigid's into action.
The hallmark of this St Brigid's team has been their willingness to work for each other. No player is more important than the group.
This was personified in the first Saint Brigid's score. As the Cargin full-back drove out the field he was harried and tackled by Aodhan Mc Nicholl who dispossessed him. McNicholl then proceeded to get the ball under control and then played an inch perfect pass to Niall Duffy. Both the Cargin goalkeeper and Duffy were committed to reaching McNicholl's pass. Those that know Duffy realised that there was only ever going to be one winner as Duffy – with little care for his own safety – attacked the ball, punching it to the net as he shipped a heavy tackle from the Cargin keeper. The large St Brigid's crowd roared their approval.
Cargin were now behind by 2 points and St Brigid's were starting to get into their stride. Jamie Conway and Donal Hanna were starting to exert considerable influence on the game and Samir O'Hare at fullback was already proving that he was the master of the square.
At midfield Conor Brown was finding his rhythm and his partner James Gorman (joint captain) was now the dominant player in the middle sector of the field.
A scintillating move involving Mc Kenna, Gorman, Blaney, Delaney and Finnegan (Colm) resulted in an opportunity for a long range point opportunity for Conor Brown. Brown accepted the ball and the responsibility, steadied himself and riffled the ball straight between the posts.
However St Brigid's Niall Duffy was now struggling to shake off his earlier knock and the management very reluctantly removed Duffy from the action.
Both sides were now throwing everything they had into the game. Cargin shot wide, then St Brigid's shot wide.
With Duffy removed for treatment, St Brigid's needed their full forward to show the leadership that he is capable off. Aodhan Mc Nicholl was now centre stage and Cargin, even with a sweeper, were just unable to contain him. St Brigid's punted inch perfect passed to Mc Nicholl's left and to his right. With the quality of service McNicholl was receiving from his teammates (in particular the ball being provided by his half forwards) and increasing dominance from the half-back line and midfield, St Brigid's were now starting to take control and McNicholl was tormenting the Cargin defence as Saint Brigid's attacked en masse and in waves.
Jack Toner was now clearly in the groove, as he sprayed passes left and right with inch-perfect accuracy. Young James Blaney was displaying a composure beguiling his years. Blaney was simply unmark-able. Few neutrals would believe this young boy is in fact eligible to play U12's this year. Blaney (who else?) was next to score, showing wonderful positional sense as he knock over a delightful point.
Perhaps the score of the game was soon to follow. A score that was clearly developed on the Musgrave training pitch. As Brian Mc Gurk stood over a sideline free, the St Brigid's players all knew what was coming, Delaney and Cleary run decoy runs, a gap opened up and Mc Nicholl accelerated from full forward and took Mc Gurk's punt pass. As McNicholl was receiving the ball, Mc Gurk was arriving to take the return pass and timing and precision were executed to perfection as Mc Gurk knocked the ball over the bar. Perfect practice really does make perfect!
This spurred the Toome boys into action as Charlie McCann and Ryan O Neill combined and send Tom Shivers though for a fine point.
Within a minute Ryan O Neill had added another point as the pendulum began to swing Cargin's way.
Thomas Mc Kenna, Niall Finnegan and Brian Mc Gurk, sensing danger, grabbed the game by the scruff of the neck. Young Thomas Mc Kenna was playing out of his skin with controlled aggression, Niall Finnegan was having the game of his life at centre half back and joint captain Mc Gurk was on fire driving his team forward. The engine room of the team was taking control of the game, secure in the knowledge that Hanna, Conway and O'Hare were in complete control in the full back line.
Just before half time the Biddies' ever-alert netminder John Mc Cooe made a spectacular save after three fine blocks by Blaney, Hanna and O'Hare in succession.
Just before half-time big Brendan Delaney burst through the Cargin defence but shot narrowly wide.
Not to be outdone by his older brother Niall, Colm Finnegan had also decided to keep his best game of the season for the big game.
A move involving Brown, Cleary, Delaney and Toner presented Finnegan junior with a difficult opportunity. However he dropped his shoulder, sent two defenders in the wrong direction and nonchalantly punted over the bar.
Shortly thereafter the half-time whistle arrived and both teams and supporters gathered their breath. St Brigid's were in the ascendancy but Cargin now had the elements in their favour.
The big question now was who wanted to win the game most.
James Gorman was about to provide a clue, fetching the ball from the throw in and driving forward. Gorman (joint captain) was leading by example and soon his teammates were following his charge.
Cargin started the second half with the rain and breeze in their favour but it was the St Brigid's lads who were first to strike.
Cleary and Toner combined with Niall Duffy (who had declared himself fit for the second half) only for that man Blaney to drill a second St Brigid's goal to the net. Confidence was now surging through the Saint Brigid's team.
The South Belfast boys were now in the ascendancy and they knew it. Midfield was the fiefdom of Gorman and Brown. Gorman's tackling really was a sight to behold. Saint Brigid's attacked again in a wave and were very unlucky not to register another goal. The "injured"Niall Duffy was now popping up everywhere.
The next score was the product of some excellent team play from Mc Kenna, Gorman and McGurk, resulting in a delightful pass to Aodhan McNicholl who skipped pass two defenders to notch another magnificent team score.
With every attack Saint Brigid's were starting to turn the screw. Matthew Mc Cann and Fintan Cleary were foraging for every breaking ball. Both were involved in a move that resulted in that man Blaney adding his second goal, but in truth this move involved almost every player on the Saint Brigid's team.
Cargin could feel the game slipping away as Saint Brigid's started to run their bench. Shane Kilmartin, Ronan Mc Keown, and Rory McErlean were all making telling contributions. Each squad player just seemed to slot into the St Brigid's machine as they moved through the gears.
Cargin plugged away and managed to registered a goal which was the result of a wicked deflection off Donal Hanna. The kitchen sink was now being thrown at St Brigid's but John Mc Cooe was more than up to the task. Little wonder that English scouts have been monitoring his progress, as he made another two wonderful saves.
The last score of the game was taken by St Brigid's classy centre half forward Jack Toner as he showed an array of skills before nonchalantly knocking over the final score of the game.
With young Matthew Lloyd, Conn Gilleece and Owen McCarney about to join the action the referee blew the final whistle, to be greeted by wild scenes of joy from players, coaches and supporters alike.
This game was played with an intensity that is rarely witnessed by players of such a young age.
It would also be remiss not to acknowledge the important role Cargin GAC played in this spectacular.
On numerous occasions the Cargin club have been gracious winners and, to the credit of their families, coaches and supporters, these young men, while extremely disappointed, were extremely gracious losers. It takes two teams to make an occasion. Cargin GAC, we salute you.
James Gorman & Brian Mc Gurk (joint captains) accepted the cup on behalf of a delighted St Brigid's squad. This St Brigid's squad has impressed on their way to winning the clubs first ever South Antrim Feile "A" title and have carried on the good work into the All County decider.
Let the history of St Brigid's show that on Sunday 15 April the Saint Brigid's U14's of 2018 became the ALL COUNTY FEILE 'A' champions.
The planning has already begun for the National element of the competition.  We have little doubt these boys will do both Antrim and St Brigid's proud when June comes around.
Some of us have even started to dream!!!!!