McGovern Performs Matrix And Smith Produces Magic As St Brigid's Defeat Clan na Gael In Friendly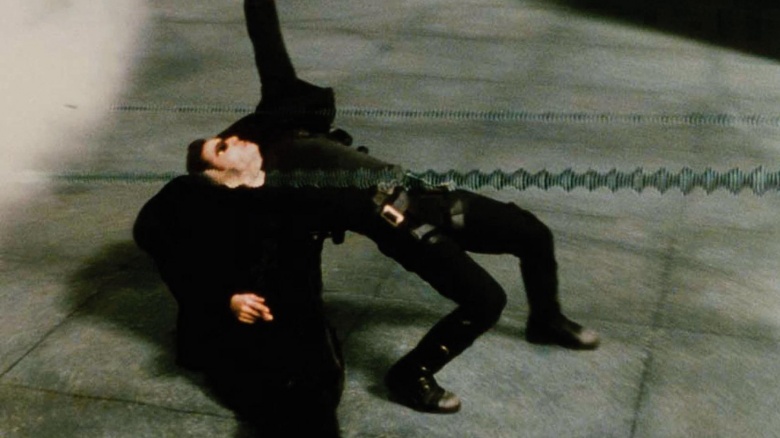 It was a cold evening that greeted the St Brigid's and Clan na Gael, Lurgan senior men's football teams as they engaged in a challenge match on Friday 23rd February at Harlequins Rugby Club, Belfast.
Stefan Campbell was the star name in action for the away side, while two of St Brigid's marquee names – Ronan McGrady (well, a marquee name according to himself, at least) and Jack Dowling (the chairman insisted we refer to him thus) – were absent due to injury and working commitments respectively. St Brigid's were keen to continue on their fine form after a one-point victory over 2016 Armagh champions Maghery on Saturday in the Ulster League, but would not have things all their own way against a strong Clan na Gael side.
If ever there was a game that summed up the phrase "a game of two halves", it was this one. In the first half, the St Brigid's spectators braving the temperatures were made to "ooh" and "aah" like a chorus of Mariuses at the beauty of the home side's attacking play. The 'Brothers Grimm' in St Brigid's full-back line, Sean and Finn McKernan, were mostly spectators alongside John Toner at full-back and Kevin McGovern in goals as their forward line concocted drool-inducing moves and scores aplenty.
Ruairi O'Neill was tying the Clan na Gael fullback line in knots, feeding off the exquisite balls delivered into him by his midfielder James Smith. O'Neill would go on to assist four of his side's six goals throughout the encounter, five of which occurred in the first half. First, he left his marker for dead with a jink before fisting the ball across for Tom Dunford to palm into the net. Later, he would repeat the move to set up a fine drop-kicked green flag for Ben Sinnott – but not before he had helped set up an excellent finish from the elusive and ever-threatening Peter Henvey. Amidst all of this glorious madness, Peter Webb struck an excellent point with his right foot (smelling salts, please) at the end of a fabulous team move involving good play from Mikey Cummings, Toner and Sinnott, and Smith clipped over quality scores from long-range with both feet. Before the referee had time to blow his whistle for half-time (and give the spectators the chance for a much-needed tea and, ahem, pint break), Sinnott had buried a goal in the top-left corner after yet another good team move.
The second half saw Clan na Gael take advantage of the slight breeze and the 'hill' to outplay St Brigid's and turn the game into something of a battle, with some brief skirmishes elucidating the slightly more fraught nature of exchanges. Campbell showed his quality with a couple of delightful scores: two goals, one 'soccer-style' into the top corner past McGovern, another blasted ruthlessly home after a swift attacking move, and some points that displayed why he has been a regular feature in an Armagh jersey over the past number of seasons. McGovern made a couple of spectacular saves to deny Clan na Gael goals during a busy spell for the visitors, one stunning left-handed block in particular described rather accurately as "like something out of the Matrix" by an onlooker.
Above: Kevin McGovern saves for St Brigid's against Clan na Gael, Lurgan
The moment of the game, however, came from James Smith. Not satisfied with some very impressive points off either foot, Smith jinked his way past a couple of Clan na Gael defenders and from twenty yards out smashed a bullet into the right-hand top corner of the net, causing gasps and applause from the (now blue) spectators.
Final score: St Brigid's 6-12 Clan na Gael Lurgan 5-08.
Man of the Match: Ben Sinnott's tights
Tweet/Response of the Day: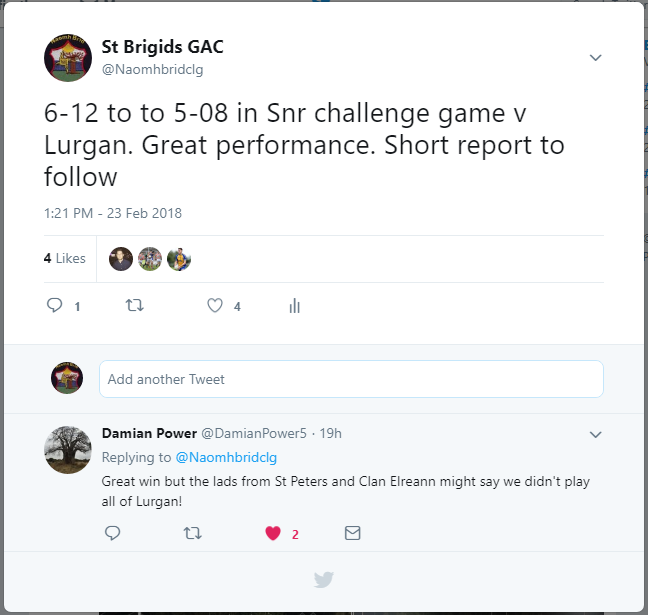 Next up for the Seniors: a possible game against Eoghan Rua, Coleraine this week (tbc). Keep an eye on the club's social media for details.