Shoebox appeal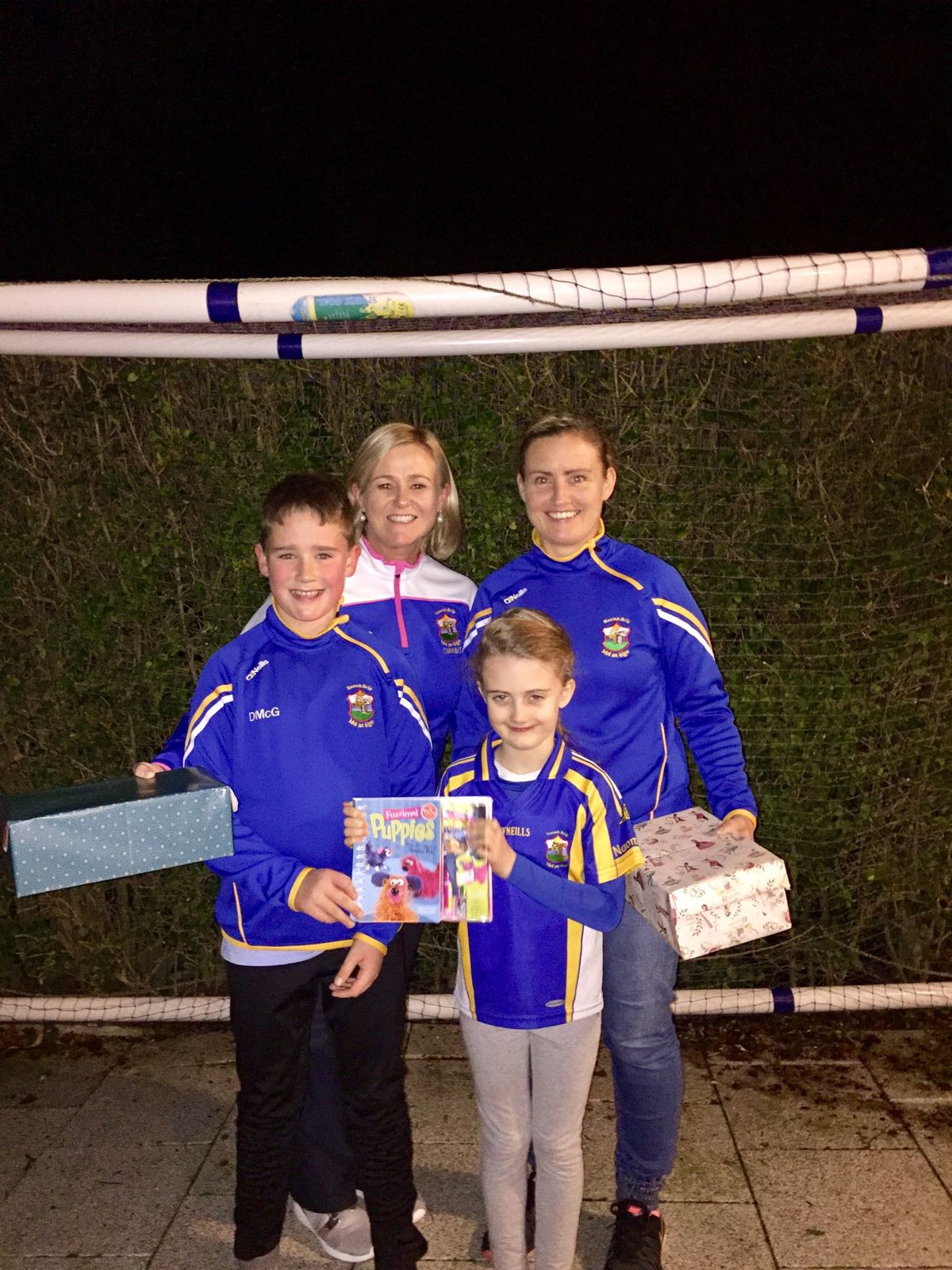 Naomh Bríd has received their first Shoebox donation by an underage player Alessia (u8), for her effort she was awarded a gift by Donnacha (u10). Well done Alessia! The deadline for the shoebox appeal is November 25th. For all donations, please contact the club assistant secretary: unamcgurk@library.com
Naomh Bríd has joined with many of the Official Antrim GAA clubs to support the Saffron Aid Christmas Shoebox Appeal. We would ask all our members to help us make a great contribution to this worthy cause. The procedure is as follows:
1. GET A SHOEBOX
2. NEXT TIME YOU ARE SHOPPING PICK UP A FEW BITS AND PIECES (see list of suitable items below)
3. PUT THEM IN THE SHOEBOX
4. WRAP THE SHOEBOX
5. MAKE SURE YOU MAKE IT CLEAR ON THE FRONT IF THE ITEMS ARE SUITABLE FOR A MAN OR A WOMAN
6. LEAVE THE SHOE BOX WITH ANY MEMBER OF THE CLUB COMMITTEE
Suitable items for the shoeboxes: Shower Gel, Shampoo, Toothpaste, Toothbrushes, Mouthwash, Lip Balm, Sanitary Products, Flannels, Combs, Hairbrushes, Hand Cream, Deodorant Spray/Roll On, Chocolate, Hot Chocolate Sachets, Notepad and Pen/Pencils, Torches, Batteries, Mobile Phone Chargers, Travel First Aid Kits, Socks, Hats, Gloves, Scarves, Small Towels, Earplugs, and Eyemasks.
This list is not exhaustive. If there is anything else you think of that would make a vulnerable person's life easier at Christmas please include those items.
Saffron Aid is also happy to accept donations of sleeping bags, which will be passed on to charities that work with the homeless.
Naomh Bríd Abú