2016 U16 Ladies Award Night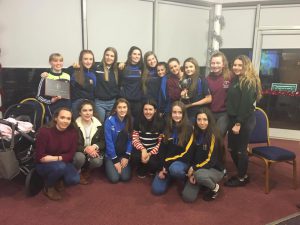 Monday night at Harlequins saw our league and championship winning U16 Ladies awarded their medals and trophies, along with a number of our girls picking up individual achievement awards. Outstanding Achievement Awards went to Emma Ferran (Midfield), Tara Graham(Goalkeeper) and Maeve Blaney (Captain) in respect of their significant contributions this year and for success in previous campaigns. They, along with a number of others now head for full-time senior football with St Brigids. Tara's new baby sister Lily even made an appearance in her 'designer' St Brigid's sleep suit (next year's 'must have' item at the club!). Definitely got the 'cutest baby award' of the night!
Most Improved award went to Catriona McBurney (in absentia with head cold!) in the full forward line who has returned to football after a few years absence and whose scores played a crucial part in this year's double achievement.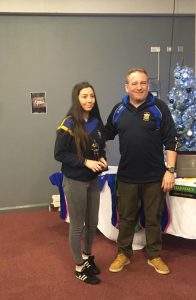 Player of the Year, Cara Lennon has worked quietly away in half back line of this squad for a couple of years but in 2016, exploded with confidence and ensured that whichever team came up against St Brigid's this year, they got nothing in the way of advantage for their forwards. Her positional play, marking and challenging was second to none and she bossed the Ballymena opposition in the Championship final like the assured asset that she has become. Her award is well deserved. All our girls can take pride in their performances this year and hopefully can carry the fight forward in 2017 where we hope to strengthen in the numbers of new girls coming to play football at the club. Coaches Philip and Ronan, and attending Committee members paid tribute to the hard work done in training and on the field of play and we were treated to a fabulous spread of food courtesy of The Pizza Co. at Finaghy (Thanks Jim!) and ably supported with refreshments from Bernie and his staff at HQ. Thanks also went to this year's jersey sponsor James McDonagh Pharmacy whose pristine kit seemed to bring the girls luck! A slideshow of the year's success was premiered and highlighted in full HD action, the drive,  determination and dedication that took the squad to great heights in 2016….let's hope we can follow it up! With 'Merry Christmas' ringing in their ears, the girls headed of for their well earned Christmas break!