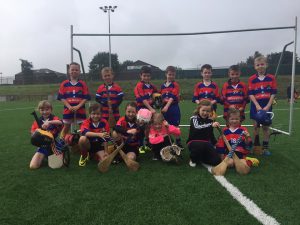 P4/3 South Antrim Go Games
Cricky Pitch
20 August 2016
Brid Ógs P4/3 team went to the new Cricky Pitch to play in the latest round of S Antrim Go Games. After the disappointment of narrowly and controversially missing out on the final of the Colin Neighbourhood tournament on their last day playing, the young Ógs responded in super style by winning all four of their games today.
The first game was against St Enda's 2nd team. The seven kids who were present at that time started the game and soon Brid Óg had went a few scores ahead. As other players arrived, many substitutions were made, but this didn't interrupt the flow of the team and Brid Óg ran out comfortable winners.
The next match was against St Teresa's. As they had only 5 players, it was decided we would lend them a player and Brid Óg would play two different teams in each half. Emma volunteered to play for the Glen Rd team. The first half team created many chances, but by half-time only one of these had been converted. The second half team came on and the game continued in the same vein with the Ógs dominating possession and creating many chances. This time more of these were taken and again Brid Óg won comfortably. Despite being the youngest player on the pitch, young Holly got on the scoresheet with a great strike past the keeper.
The third match was against St Enda's 1st team. This game was 7 a side, so Brid Óg had to make many substitutions throughout the game. The Ógs went into a 3-0 lead and seemed well in control. The Glengormley kids had battled hard throughout and fought back to 3-2. At this stage they looked like they would get level and they had a great chance which Conor superbly tipped round the post. This close call galvanised Brid Óg and a couple of further goals resulted to steady the team and see out the win.
Finally, Brid Óg faced St Gall's. Due to numbers, Brid Óg lent St Gall's 3 players and the pitch was extended for a 9 a side match. Roisha, Oisin and Eimear played for the Milltown Row team. Brid Óg had a little more of the play and put their opponents under pressure, though St Gall's also had chances of their own. Brid Óg established a two goal lead, but their opponents responded with a goal of their own. The next goal was going to be crucial and both teams had chances to score. Eventually James got a goal with a fine long range strike, but St Gall's weren't finished and launched attacks of their own. They did get another goal, but it was the final poc of the game, so Brid Óg came away with a narrow victory.
Overall this was a very impressive display of hurling for the Brid Óg kids. There were debuts today for Fionn, Emma and Holly and they all scored goals. Ronan, Cuan, James, Conor and Seagh were also on the scoresheet today. It was great to see so many kids turn out to play today. With a few other players not available today, these kids are developing into a very talented squad. With the coaches beginning to look towards the North Antrim league, if we are getting as many kids as this turning out for games, we can look at entering more than one team in that competition. Of course, some of the kids playing today already tasted success in that competition at the start of this year.
As usual, thanks to Kieran Megraw for organising these games and to Ardoyne for hosting the matches.
Brid Óg P4/P3 squad:
Georgia, Emma, Aoife, Eimear, Roisha, Holly, James, Conor, Fionn, Cuan, Seagh, Ronan, Oisin