u14 Boys Football Feile Fundraisers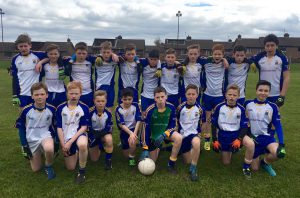 COME FOR COFFEE
St Brigids GAC u14 Boys Football team has, for the first time, made it through to the finals of the All-Ireland National Feile in Kerry/Cork! A squad of 24 boys will travel on 24 June to represent the Club and it is expensive!
To raise support for the trip and to celebrate the boys' success you are invited to a coffee/tea morning after both Masses on Sunday 19 June 2016 in the parish hall. We have been busy baking and brewing and look forward to seeing you! Please drop by!
QUIZ NIGHT
If you cannot make the coffee morning, or just want to come along again, please join us for a quiz night in the parish hall on Sunday 19 June 2016 from 7pm to 10pm with light refreshments available.  Resident quiz master is Paul Campbell and an entry fee for each team to a maximum of 5 will be £20.
You are most warmly invited to this entertaining and fundraising night.
Any queries please contact Michael Megarity (m.megarity@btinternet.com).